Bay Circuit Trail
Newburyport
Massachusetts
01950
United States
Easy

35%

Moderate

50%

Difficult

15%
Description
The Bay Circuit Trail
The Bay Circuit Trail, formerly known as the Bay Circuit Path is about 230 miles long. Although this changes constantly due to land ownership changes and new opportunities. It runs from Newburyport's Plum Island to Duxbury's Harbor running through 38 towns and linking 57 Greater Boston communities.
Most responsible for today's Bay Circuit Trail is Alan French, a North Andover resident, who working with a host of volunteers created, planned, marked and most importantly got permissions for mouch of what we now enjoy.
Today the trail is managed by the Appalachian Mountain Club and the Trusttes of Reservations.
   Little know fact: The "original" Bay Circuit Path, in the early part of the 20th century, was conceived of as a motorway linking pastoral unpaved roadways for automobile use. The world has certainly changed since then.
The Bay Circuit Trail is mostly located between the Route 495 and 128 Beltways, It runs from sea leavel to sea level with a maximum elevation of 602 feet at Nobscot Hll in Framingham Some sections of the trail are on pavement, but the majority of it is trail.
The trail passes through an almost innuerable number of conservation parcels, parks and State forests.
Most of the Bay Circuit Trail is open to bikes. But there are a few exceptions. 
   One exception is the Nobscot Scout Reservation on Sudbury and Framingham. This includes most of the of the section of the trail between Brimstone Lane and Route 20 and includes both Nobscot Hill & Tipping Rock. The biking alternate is going north on Bay Circuit trail is north (downhill) on Brimstone Lane and east on Route 20.  Going South, from Tippling Rock Trailhead, go west on Route 20 and south (uphill) on Brimstone Lane.
   Other exceptions include certain trails on Sudbury Valley Trustees properties and Audubon's Moose Hill Sanctuary in Sharon.
NEMBA has a long history of volunteerism on the Bay Circuit.  To see a list of these type Bay Circuit into the search box at the top of this page.
    Riding the Bay Circuit Trail
Most people riding in their favorite areas in this corridor observe Bay Circuit Trail markers. But few people try to ride the whole thng. Check the maps. You may find that you can link a few of your favorite riding areas using trails that you've nvere explored. Many times people will park vehicles at two places on the Trail and ride between them. Over time they may ride the whole thing. I am aware of a few pwople who have done the whole thing, with the exceeption of a few no-bike restrictions, in one ride. But, they normally do some rough camping or stay at motels along the way.
When exploring the Bay Circuit Trail you'll go through many conservation areas and pass an uncountable number to trail junctions. Giving you a perfect opportiunity to explore.
The map at the top of the page links you to the Newburyport, or northern end of the trail at the Parker River National Wildlife Refuge. Here's a more detailed MAP.
The southern end is located at the Bay Farm Preserve located at 55 Loring Street in Dxbury.  You'll fid a map of this area HERE. Note: You can actually do a loop ride at this end of the trail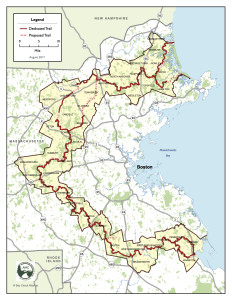 Links to Relevant Resources